se of precise drawings that guide the entire process of construction & fabrication process. Besides that, CAD drafting services include the use of industry-specific software & tools along with skilled professionals. The good thing is that there are many companies to who you can outsource CAD services. They will not only have industry-specific software but also provide professionals with years and years of experience.
What are fabricators and how CAD drafting is a blessing for them?
Fabricators are those businesses that specialize in the manufacturing as well as assembly of metal, plastic, as well as other materials into fine products like parts of machinery, consumer goods, or even industrial parts. Usually, they use CAD drafting services to create a precise and accurate drawing and plan of the end product before beginning the manufacturing process. There are many reasons why these businesses highly depend on CAD services. Some of these reasons are –
Accuracy & Precision
CAD drafting services tend to allow fabricators to structure the fabrication drawing with precision and accuracy, ensuring that the final product meets all the requirements when actually designed.
Improved Quality Control
Another benefit of CAD drafting is that it enables fabricators to catch errors & inconsistencies while it is in the designing phase. This reduces any risk of costly mistakes.
Time-efficiency
Another highlight of CAD drafting services is that it allows fabricators to create technical drawings & plan more efficiently and precisely.
Smoother collaboration
With CAD drafting services, you allow fabricators to collaborate with clients, engineers, and other stakeholders by providing a precise visual representation of the product.
Different types of CAD drafting services
When it comes to CAD services for fabricators, there are many types of options available that can be used to create technical drawings. Below, we are going to share with you all the major categories of CAD drafting services for fabricators.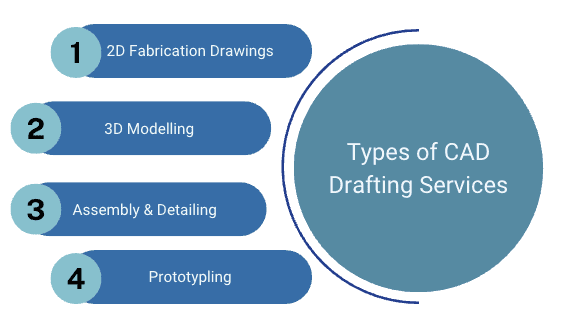 2D Fabrication Drawings
As the name suggests, these are two-dimensional technical drawings that are made to provide detailed information on the dimensions, specifications, and materials of the product. These drawings are usually used to guide the fabrication process as they provide a clear & detailed representation of the final product.
3D Modelling
Another type of CAD drawing for fabricators is 3D modelling. This allows fabricators to create 3D representations of products, allowing them to get a detailed view of the final product before the work even begins.
Assembly & Detailing
This is another type of CAD drafting service. This is the draft that provides detailed information on how the assembly of the product should happen. Not just this, it also includes the location & orientation of each component. All this information makes it an important drawing for the fabricators.
Prototyping
Prototyping is another type of CAD drafting service that is good for fabricators. This involves the creation of a physical model/prototype of the product which allows fabricators to have a realistic representation of the product they wish to create. This is important for fabricators because it allows fabricators to make any necessary changes before starting the fabrication process.
All this can be done by using some good CAD software. You can find the list of best CAD conversion tools and software here in our list of best CAD conversion tools | Recommended by professionals.
Conclusion
Since we have discovered how important CAD drawing services are for fabricators, let's understand why you should consider outsourcing CAD services to a professional. Unlike what you believe, CAD drawings need a professional eye if you need to do it accurately. Luckily, there are many CAD companies across the globe that have made their name in the market for being the best. One such name is Cosmere Technologies. They not only have the best software and technology but also have the best brains to work on projects.
If you need to discuss more on how they can help you as a fabricator, all you have to do is contact us.