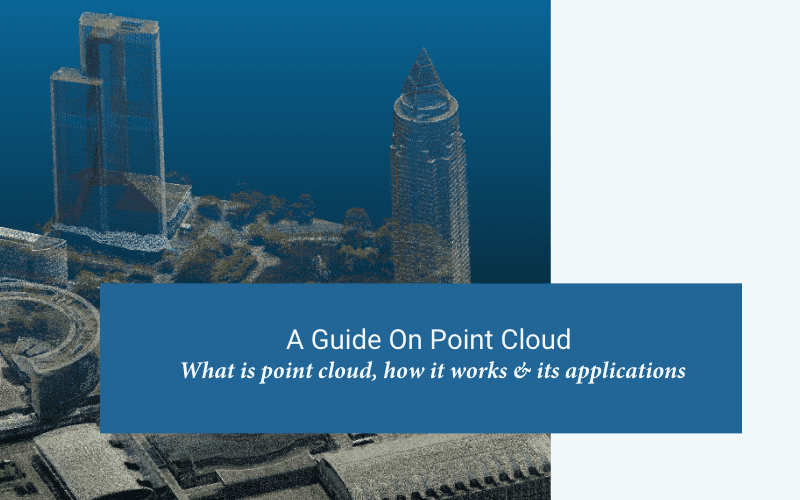 A to Z of Point Cloud for Beginners! What is a point cloud, and how to create it & beyond
Before we start, let's understand why we are writing this guide and for whom. This guide will help you understand everything important about point cloud like what it is, how it can be created, and what is its importance. Everyone who is new to the industry and everyone who wishes to take point cloud services. 
Mapping the environment around any building, be it a cave, multi-story building, or hospital, has become effortlessly easier with ever-improving mobile technology. For beginners in the industry, it brings in all the new possibilities with the support of a professional mapper with an understanding of a point cloud.
In this guide, we will take you through some basic questions that you might have about point cloud – starting from what is it and how can it be created and utilized. With continuous advancements in technology, point clouds have become faster, easier, and more accessible.
What is a point cloud?
A point cloud refers to the collection of small individual points plotted in 3D space. A point cloud constitutes a multitude of points that are captured using a 3D laser scanner and LiDAR (light detection and ranging) technology. For an instance, every point in the point cloud represents a real point (wall, metalwork, stairway, surface, etc) on the building that is scanned. The scanner tends to automatically combine all the vertical as well as horizontal angles created by a laser beam to get exact 3D X, Y, and Z coordinates for each point to produce a set of 3D coordinate measurements including – colour value and intensity. The denser the points, the more detailed the representation which enables you to get accurate texture detail, features, and precise definition. Once the scan is complete, they are stitched together, building a complete capture of a scene. This is done using the process called 'registration'.
To understand more about point clouds, we need to understand the –
What is point cloud data?
Point cloud data refers to the data points that are collected for a given area, building, or terrain. The cloud dataset is created using LiDAR technology which helps you scan all the datasets using light detection and ranging. This data collected is then turned into 3D models of the space in question.
Now that we know what point cloud data is, let's jump to the next one – how do you create a point cloud?
Creating a point cloud is usually a two-step process –
1. Scanning using LiDAR or Photogrammetry
2. Rendering the scanned data and putting together the image
When it comes to creating a point cloud, a 3D LiDAR scanner is used. Drones have been proven to be an efficient means to capture aerial images of the desired location. ZEB Horizon is one of the efficient scanners that is used to create a point cloud. There are some cases where one needs to scan the object multiple times from different viewpoints that are later integrated together to complete the process.
Once the scan is complete, you need to remove the USB memory stick from the scanner and insert it into the computer. Software like GeoSLAM Connect is used to render all these points from the scanned data and come up with the complete representation of the object in question.
Note – LiDAR vs Photogrammetry – Although these two processes are used for the same purpose – scanning the building, LiDAR is preferred above Photgrammetry because of increased efficiency and accuracy.
How long it takes to create a point cloud?
Usually, when it comes to creating a point cloud is a process that is not time-constraint. The time to complete this process directly depends on the number of sans that are needed to get the complete data. This, however, directly depends on the scanner that is used in the process.
Just to give you an idea – a 130-scan point cloud dataset of a building with all the rooms, corridors, and service areas could take nearly 25 hours to process with a traditional & static laser scanner. Although scanning can be done in a day for this but registration of the point cloud datasets would take around 3 days.
What are the applications of the 3D point cloud?
Now that we have discovered what is a point cloud, how it is created, and how much time it takes to create one, let's jump to the applications of the point cloud.
1. Construction progress tracking
2. BIM
3. Floor planning
4. Operational 3D model creation
5. As-built
6. Inspection & measurement
About Cosmere Technologies
Cosmere Technologies is the one place where people, companies, and contractors come to get the best in class point cloud services. Right from having an excellent team of experts, they also have the most advanced technology to provide the best service. So, if you are looking for a professional point cloud service company, there is no better choice than Cosmere Technologies.